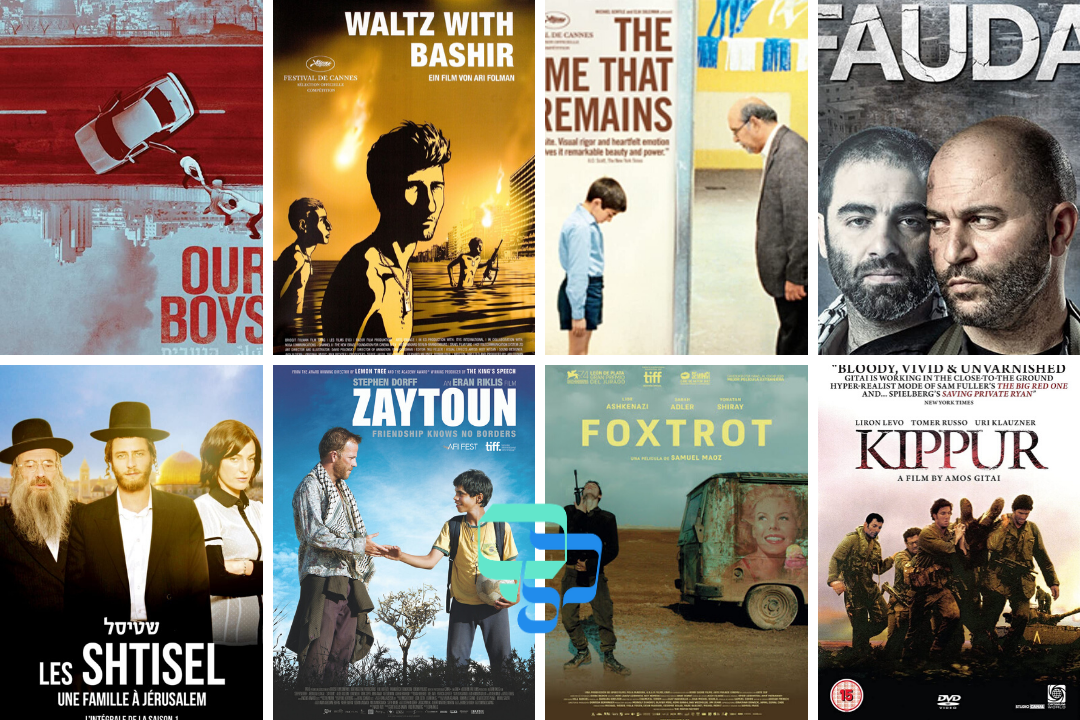 Note: Solutions Not Sides makes no attempt to reconcile or support any of these films or the narratives they show, but we believe it is important to understand each side's perspective and the way that their society presents and understands events.
You can find Part One here.
'Unsettled' (2007) Adam Hootnik
The documentary follows the Israeli government decision to withdraw from the Gaza Strip. The choice impacts all who live in the embattled region, and it earns a variety of reactions. Some people support the decision, while others are staunchly opposed.
Available at: https://www.youtube.com/watch?v=SB42YjUNCZU
'Kippur' (2000) Amo Gitai
Kippur is based on the true story of the Yom Kippur War, as told by the personal account of Israeli army reservists. The sudden defeats and considerable loss of life that occurred at the beginning of the conflict handed down a terrible psychological blow to Israelis, and the emotional impact on the individual Israeli soldiers is expanded upon in the film.
Available at: https://www.youtube.com/watch?v=ZuFvmED48-Q
'Fauda' (2015-) TV series
An Israeli television series tells the story of Doron, a commander in the Mista'arvim unit and his team as they pursue a Hamas arch-terrorist known as "The Panther."
Available on Netflix
'Dreams Deferred: The Struggle for Peace and Justice in Israel and Palestine' (2011) Jennifer Hitchcock
This documentary highlights the voices, opinions, and actions of Israelis and Palestinians who are struggling to nonviolently end the Israeli occupation and achieve a just resolution to the conflict. The filmmakers accompany Israeli activists to a demonstration against the separation barrier in Bil'in, take a tour of Hebron with a Palestinian human rights activist, document their experience during an extended military curfew in Jayyous, and follow Israeli activists around settlements and new construction in East Jerusalem.
Available at: https://www.filmsforaction.org/watch/dreams-deferred-the-struggle-for-peace-and-justice-in-israel-and-palestine-2011/
'This is Palestine' (2017) John McColgan
This documentary features powerful interviews with people who have lost their home, land and family members as a result of the conflict. As well as meeting communities under threat, McColgan also spent time with Israeli and Palestinian peace activists working to bring this long-standing conflict to an end.
Available at: https://www.filmsforaction.org/watch/this-is-palestine/
'Chronicle of a Disappearance' (1996) Elia Suleiman
A Palestinian expatriate filmmaker documents the loss of national identity in Israel's Arab population. Suleiman plays himself returning to Israel and the West Bank after a long absence which is followed by a series of barely connected vignettes and sketches, which are intended to convey the feelings of restlessness and uncertainty from Palestinian statelessness
Available at: https://www.youtube.com/watch?v=P-sv8-hxZlY
'The Time that Remains' (2009) Elia Suleiman
This film gives a comedic account of the creation of the Israeli state from 1948 to the present, focusing on the director's hometown of Nazareth.
Available at: https://www.youtube.com/watch? v=KMRXxjLNs1Q
Shtisel (2013-) TV Series
Shtisel is an Israeli television drama series about a fictional Jewish family living in Geula, Jerusalem. The series follows the lives of Shulem Shtisel, the Shtisel patriarch and a Rabbi at the local yeshiva, as well as those of the other members of his family. Shtisel is set in a religious, Internet-free neighborhood.
Available on Netflix
'Omar' (2013) Hany Abu-Assad
Omar is a Palestinian baker who frequently climbs the West Bank barrier to visit his lover Nadia, a high-school girl whom he intends to marry. After being beaten and humiliated by a group of Israeli soldiers, Omar and his childhood friends stage an attack on an Israeli checkpoint. Facing a lengthy prison term, Omar is forcibly coerced by an Israeli agent into working as a double agent for the Israeli authorities.
Available at: https://www.youtube.com/watch?v=Nhn_rb4zkzo
'Foxtrot' (2017) Samuel Maoz
A knock on the door leads to unfathomable grief as a man and his wife learn that their son died in the line of duty as a soldier.
Available on Youtube [pay]: https://www.youtube.com/watch?v=00wdeEaZnfk
'Our Boys'  (2019) TV Series
Our Boys is an American-Israeli television miniseries. The series depicts the kidnapping and murder of three Israeli teenagers at the hands of Palestinian militant group Hamas. This then prompts a retaliation, which involves the kidnapping and murder of Mohammed Abu Khdeir. Three Jews carry out the attack, an adult and his two young relatives. Aside from the grief of the victims' families, the series also follows the investigation of Khdeir's murder and the tension that emerges among Jewish and the Arab community after the incident.
Trailer: https://www.youtube.com/watch?v=a4AVfDnwCIE
'The Idol' (2015) Hany Abu-Assad
A film about the popular Palestinian singer Mohammad Assaf, from childhood to adulthood, and his life in Gaza until he won the Arab idol.
Available on Youtube [pay]: https://www.youtube.com/watch?v=JMcVnYpSC68
'Ajami' (2009) Scandar Copti and Yaron Shani
Arabs, Palestinians, Jews, and Christians try to live together in an area where Omar, an Arab Israeli tries to save his family from a gang of extortionists through whatever means necessary but violence is often met with violence in this story about love, hatred, and personal freedom.
Trailer: https://www.youtube.com/watch?v=8y6ExnSrggc
'Disengagement' (2008) Amos Gitai
A political drama centered around Israel's pullout from the occupied Gaza strip, in which a French woman of Israeli origin comes to the Gaza Strip to find her long ago abandoned daughter.
Trailer: https://www.youtube.com/watch?v=ZQbt2F6BZdw
'Kedma' (2002) Amos Gitai
The film follows the fate of a group of refugees from the Holocaust who are illegally brought to Israel by the Palmach. The film centers on two long monologues, one by an Arab peasant who pledges to oppose the Jews forever; and one by an emotionally demolished refugee who laments the seemingly endless suffering of his people.
Trailer: https://vimeo.com/ondemand/44265
'Naila and the Uprising' (2017) Julia Bacha
When a nation-wide uprising breaks out in the Occupied Palestinian Territories, a young woman in Gaza must make a choice between love, family, and freedom. Undaunted, she embraces all three, joining a clandestine network of women in a movement that forces the world to recognize the Palestinian right to self-determination for the first time.
Trailer: https://www.justvision.org/nailaandtheuprising
'The Attack' (2012) Ziad Doueiri
An award-winning Palestinian surgeon is shocked to discover that his wife was the terrorist responsible for a suicide bombing that killed 17 people.
Trailer: https://en.unifrance.org/movie/33966/the-attack
'Wedding in Galilee' (1987) Michel Khleifi
A Palestinian seeks Israeli permission to waive curfew to give his son a fine wedding. The military governor's condition is that he and his officers attend. As darkness falls, tensions between army and villagers rise, and the groom's wedding-night anger and impotence threaten family dignity and honor.
Available to purchase: https://www.amazon.com/Wedding-Galilee-Mohamad-Ali-Akili/dp/B00019G4UU
'When I Saw You' (2012) Annemarie Jacir
Together with his mother, Tarek has to flee from Palestine to Jordan. Having been separated from his beloved father in the chaos of war, Tarek has difficulties adjusting to life in a refugee camp between thousands of tents and prefab houses.